Join our board of directors
We are accepting applications for Associate Board Members. Are you strategic? Do you enjoy learning and applying new skills? Do you have a background in finance, business or risk assessment? We would love to have you join us.
The board meets monthly to review the performance of the Credit Union and set Credit Union Board policy.
Geof Griebel Board Chair
Martin Valadez Torres Board Vice Chair
Brett Spooner Board Secretary
Gregg Andrews Board Member
Andrew Austin Board Member
Ben Basson Board Member
Manuel Chavallo Board Member
Linda Cowan Board Member
Bob Follett Board Member
Bill Melberg Board Member
Jessica Schneider, M.D. Board Member
Peter Smith Board Member
Cristina Reyff Associate Board Member
It is the responsibility of the Supervisory Committee of Gesa Credit Union to monitor the financial safety and soundness of the credit union and to oversee compliance with various financial and regulatory requirements.
Rob McFarland
SC Chair
Matt Medlin
SC Vice Chair
Portia Singian
SC Secretary
Bob Hamm
SC Member
Kevin Sullivan
SC Member
The annual stipend ranges between $20,000 and $27,000 for Board members and is based on leadership position(s) held. The annual stipend for Supervisory Committee members ranges between $9,000 and $13,000 and is based on leadership position held.
| Position | Compensation |
| --- | --- |
| Board Chair | $27,000 |
| Director | $20,000 |
| Supervisory Committee Chair | $13,000 |
| Supervisory Committee Member | $9,000 |
| Board Committee Chair | $4,000 |
The Gesa Credit Union Officials Compensation Program began effective January 1, 2019. In 2022, Gesa Credit Union paid its Board and Supervisory Committee the amounts listed below. Gesa Credit Union will report the compensation paid to all Board and Supervisory Committee members for 2022 following the end of the year.
For questions or concerns regarding Board of Directors or Supervisory Committee compensation, please contact the credit union's Board of Directors at:
Post Office Box 500
Richland, WA 99352
| Title | Board Members (2022) | Compensation |
| --- | --- | --- |
| Board Chair | Geof Griebel | $18,750 |
| Board Vice Chair | Martin Valadez Torres | $22,500 |
| Board Secretary | Brett Spooner | $21,663 |
| Board Member | Gregg Andrews | $25,750 |
| Board Member | Andrew Austin | $18,750 |
| Board Member | Ben Basson | $18,750 |
| Board Member | Manuel Chavallo | $18,750 |
| Board Member | Linda Cowan | $18,750 |
| Board Member | Bob Follett | $22,500 |
| Board Member | Bill Melberg | $18,750 |
| Board Member | Jessica Schneider, M.D. | $13,556 |
| Board Member | Peter Smith | $19,587 |
| Title | Supervisory Committee Members | Compensation |
| --- | --- | --- |
| SC Chair | Rob McFarland | $8,500 |
| SC Vice Chair | Matt Medlin | $8,500 |
| SC Secretary | Portia Singian | $5,975 |
| SC Member | Bob Hamm | $8,500 |
| SC Member | Kevin Sullivan | $12,500 |
| Committee Member | Kara Rohrig | $818.00 |
Board of Directors and Supervisory Committee Compensation Schedule
As permitted by law and the Credit Union's Bylaws, Gesa provides reasonable compensation to the Board of Directors and Supervisory Committee for their service to the Credit Union. An annual stipend is payable in quarterly installments in recognition of the education and time requirements that are necessary and expected of Board members, who set the strategic direction of and provide general oversight of the Credit Union, and Supervisory Committee members, who provide oversight regarding the safety and soundness of the Credit Union. 
As required by law, the members of the Credit Union shall be informed of the compensation provided to the Board of Directors and Supervisory Committee members. 
April 13, 2023. If you missed it, you can see the highlights of accomplishments and achievements from 2022 in our Annual Report and Impact Report.
When: Thursday, April 13 at 6:00 p.m.
Where: Virtual
Gesa's 70th Annual Membership Meeting will be held on Thursday, April 13 at 6:00 p.m. We welcome you to join us in this virtual format.
How to attend:
Members are asked to register in advance for this virtual meeting. Simply email [email protected] with your first and last name, email address, and phone number. All members who are registered will receive login information via email by 10:00 a.m. on the day of the event.
During the virtual meeting, elections will be held for those Board of Director and Supervisory Committee members with terms expiring at the 2023 Annual Membership Meeting. The nominees are as follows:
Board of Directors Nominees (Three-year term)
Gregg Andrews
Ben Basson
Geof Griebel
Bill Melberg
Supervisory Committee Nominee (Three-year term)
Bob Hamm
Portia Singian
Thank you for your membership!
Gesa Credit Union Mission, Vision and Values
The credit union motto is at the backbone of Gesa's core values, mission, and vision – people helping people. We are a dedicated community partner, offer sound financial management, value integrity among our leadership team and organizational culture, and constantly strive to offer great member relations.
Gesa's Mission and Vision
Gesa Credit Union's mission is to help members prosper by empowering our members through financial education and providing access to a broad range of valued and cost-effective financial products and services.
Members have convenient access to a comprehensive, relevant and innovative range of financial products and services throughout their lives.
Members receive overall rates and fees competitive with other financial institutions.
Members trust that Gesa provides honest advice in their best financial interest, confidentiality, accurate transactions and information, all while safeguarding their information and financial assets.
Members and their families have convenient access to relevant financial education to promote financial literacy and long-term financial wellness.
The Member Service Experience is exceptional as a result of an engaged workforce that is invested in the success of the Credit Union.
Vision: Members choose Gesa as their trusted lifelong financial partner.
Contact the Supervisory Committee/Board of Directors
Gesa makes banking as easy, convenient and secure as possible.
Gesa credit union is committed to making a positive impact in the communities we serve.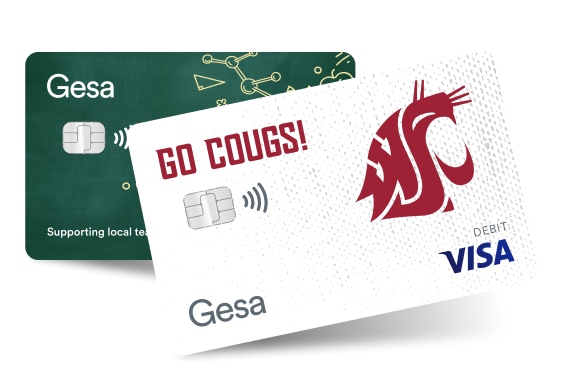 Affinity debit cards give back to your community when you swipe.
We're in the business of growing yours.
We have the accounts, products, and services to help you and your small business succeed.
With best-in-class rates and a variety of everyday banking products, Gesa has the right account, card, or loan for you.
Disclaimer
*APY
* APY = Annual Percentage Yield. Rates, terms, and fees are subject to change. APY is accurate as of the first day of the month – the last dividend declaration date.
SmartPlus Checking
*To earn the higher rate, you must:

Enroll in eStatements
Make a monthly direct deposit of over $200
Complete 15 debit card transactions
Provide and maintain a valid email address
Limit one account per member

For any month where the account does not meet the qualification requirements, the account will earn a lower rate. Minimum balance of $5 needed to open.Qualifying account balances meet minimum requirements. APY subject to change monthly. Rate may change after the account is opened. The qualifying period begins with the first day of the calendar month and ends on the last day of the calendar month at 6:00 P.M. Pacific Time. No monthly fees and no minimum balance required to maintain account. Minimum opening deposit of $5. Fees could reduce earnings. Limit of one specialty checking account (Smart Plus Checking) per member.