Make life easier with the Commercial Banking services Gesa has lined up for you and your business.
Online and Mobile Banking
Convenient Online and Mobile Banking
Gesa's Online Banking is accessed from gesa.com and is our online account service, so you can conveniently keep track of all your day-to-day account activity.
Easily access Mobile Banking to make remote check deposits as well as access your account via your mobile device 24/7.
Online Bill Pay is a secure electronic service that lets you pay bills without having to write checks. It saves time, and there is no need for stamps or snail mail. You can easily set up one-time or recurring payments.
A sweep is a way to automatically move funds to maximize your investment income and minimize interest expenses. There are three types of sweeps:
Benefits
Money Market Business Sweep 
LOC Sweep
ZBA Sweep
For more information on this service, please contact our Treasury Management Officers at (833) 322-1893.
Maintain Control of Funds
ACH offers business owners the ability to maintain control of available funds until the moment they need them to cover disbursements. It's not only a great time-saver but a great way to save money, too.
When your business needs to move money around in a hurry, Gesa offers wire transfers. Wire transfers allow precise timing of payments, accurate projections of disbursements and are particularly useful for handling high-dollar transactions.
Benefits
Accepted worldwide
Facilitate timely transactions
Can be one-time or recurring wires
You can build a database of wire recipients for future use
Merchant Services—often called credit card processing—is what handles electronic payment transactions. They are generally run through an account that a merchant sets up to facilitate debit and credit card processing. Gesa offers Merchant Services to all business owners to help them expand their customer payment options.
Merchant Deposit Capture (MDC)
Merchant Deposit Capture (MDC) is an easy way to scan and deposit checks electronically using a desktop scanner connected to your PC. With this service, there is no longer a need to take a copy of a check, purchase deposit tickets, or send employees to the bank—it saves time and money as well as improves cash flow.
Electronic Federal Tax Payment System
EFTPS is the easiest way to pay all your Federal taxes. EFTPS is offered free from the U.S. Department of the Treasury to help business owners conveniently pay all their federal taxes electronically. Visit their website at www.eftps.gov to get started today!
Automated Clearing House (ACH)
Also known as direct payments, we use the ACH service in conjunction with our Business Analysis checking account. This service can save you time and money while moving funds quickly and efficiently.
Electronically debit or credit bank accounts of employees, customers, and vendors by submitting your batch file to Gesa.
Conduct payroll transactions, consumer collections, business-to-business payments or collections, cash concentration, and tax payments.
Same Day ACH options ensure your transfers are sent in an expedited batch for processing that day.
You can create batch files manually, generated from a template, or imported from your personal accounting software in standard NACHA format.
Maintain control over employee permissions with batch creation and approvals.
View saved, pending, and completed ACH transactions.
Add, edit, and manage receivers.
How does it work?
For information on this service, please contact our Treasury Management Officers at (833) 322-1893. We assess transaction limits for security and risk purposes. Once approved for our ACH service, we'll give you instructions and training on how to use ACH within our online banking platform.
Business Overdraft Protection
There are times in life and business when you need a little extra help. In those unexpected situations when you are short on funds, Business Courtesy Pay may save you from merchant NSF fees, interruption of services, and the embarrassment and inconvenience associated with returned or declined items. You can choose one type of account coverage, or all three. Whatever works for you, works for us.
‍
Anyone who has had a check returned or debit card declined knows how quickly a small mistake can turn into big consequences. Returned item fees charged by merchants and creditors add up quickly. At Gesa, we have options to help you.
‍
For more information about your overdraft options call (888) 946-4372, Ext. 1201.
Public Funds Deposits Program
Gesa's Public Funds Deposits Program gives Public and Municipal entities the option to bank with a local credit union keeping funds local, which benefits our communities. Gesa is on the list of approved financial institutions for banking by the Washington State Treasurer and can accept Public Funds and Municipal deposits for collateralization in excess of $250,000.00.
For more information on Treasury Management, please call (833) 322-1893.
Gesa makes banking as easy, convenient and secure as possible.
Gesa credit union is committed to making a positive impact in the communities we serve.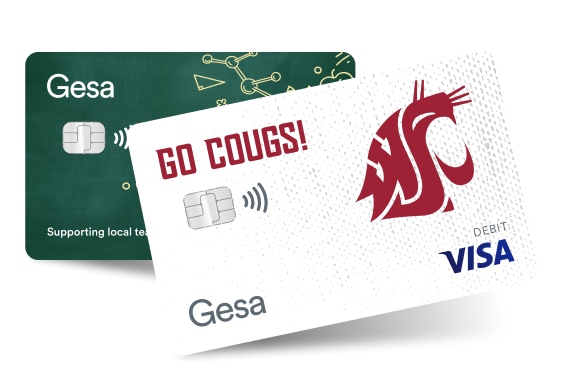 Affinity debit cards give back to your community when you swipe.
We're in the business of growing yours.
We have the accounts, products, and services to help you and your small business succeed.
With best-in-class rates and a variety of everyday banking products, Gesa has the right account, card, or loan for you.
Disclaimer
*APY
* APY = Annual Percentage Yield. Rates, terms, and fees are subject to change. APY is accurate as of the first day of the month – the last dividend declaration date.
SmartPlus Checking
*To earn the higher rate, you must:

Enroll in eStatements
Make a monthly direct deposit of over $200
Complete 15 debit card transactions
Provide and maintain a valid email address
Limit one account per member

For any month where the account does not meet the qualification requirements, the account will earn a lower rate. Minimum balance of $5 needed to open.Qualifying account balances meet minimum requirements. APY subject to change monthly. Rate may change after the account is opened. The qualifying period begins with the first day of the calendar month and ends on the last day of the calendar month at 6:00 P.M. Pacific Time. No monthly fees and no minimum balance required to maintain account. Minimum opening deposit of $5. Fees could reduce earnings. Limit of one specialty checking account (Smart Plus Checking) per member.